About us
We are a store specializing in table tennis merchandise. We have been in business for 30 years, since 1979. After receiving numerous inquiries from abroad, we launched this website in 2009.
Our goal is to provide a service useful to table tennis lovers throughout the world.
About the Owner
The owner of this store is Shigekazu Tomioka. At age 26, he lost the movement of his right hip joint in a car accident.
He had to undergo medical treatment for four years, but he strove to rehabilitate himself because of his love for table tennis.
At age 40, as an able-bodied participant, he won the All Japan Masters.
At 59 he participated in the Paralympics in Athens, and finished in the top eight.
And he is still pushing ahead. Perhaps he'll be able to meet you some day.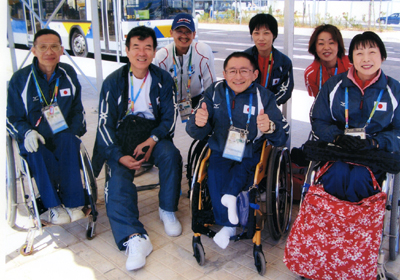 Owner is the second from the left in atena.
Table tennis shop Tomioka
Address: Myoujin-chou 3-8-12,
Hachiouji-shi,
Tokyo,
Zip 192-0046